Waterjet Cutting 18-Inch-Thick Stainless Steel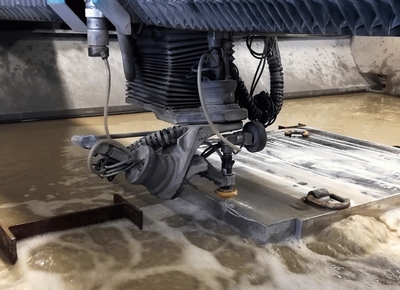 For this project, Strahman Valves needed a vendor capable of waterjet cutting 18-inch-thick blocks of type 316 stainless steel, weighing 8,300 lbs each. Accurately cutting metal of that thickness is uncommon in the waterjet industry, so AquaJet Services reconfigured a waterjet machine and did test cutting in order to meet the requirements of the project.
AquaJet Services specializes in jobs like this—projects involving unique challenges and detailed communication with the customer. Finding creative solutions for diverse industries is our niche.
How AquaJet Did It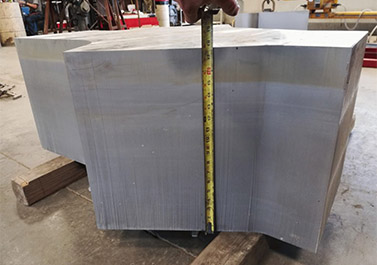 The 18-inch-thick stainless steel blocks created challenges due to their weight. Our waterjet department removed the structure of the table and bridge, and constructed a heavy-duty fixture welded to the floor of the waterjet tank. We constructed a special lifting device to lower pieces into the tank for cutting and to lift out the finished parts. 
For most waterjet cutting, we use garnet abrasive due to its high level of hardness and its ability to produce precise results. Each block required 4,000 lbs of garnet abrasive and 35 hours of cutting time. The 18-inch material thickness is far beyond any standard waterjet cutting configurations. However, we were able to take this job because we have developed our own protocols to achieve the desired cut finish and accuracy in ultra-thick metals.
Each 18-inch-thick part had four big drop pieces cut off of it. Before cutting, our team welded D-rings onto each drop piece above its future center of gravity in order to lift it with the crane after cutting. The finished parts weighed 4,700 lbs each.
Why Turn to Us for Your Waterjet Cutting Needs
Waterjet cutting is a very versatile process, and AquaJet Services maximizes the possibilities of waterjet cutting through a deep understanding of the machinery and the process. Most of our design team has experience with waterjet cutting and fabricating, and conversely, most of the waterjet operators and fabricators are involved in CAD/CAM. This creates a deep end-to-end expertise that facilitates creative solutions to the unique challenges presented in a job like this. Strahman Valves has inspected the completed parts and is pleased with the quality and speed of the job.
Contact the AquaJet Team to Learn More 
AquaJet is proud to serve a variety of clients with diverse requirements. Our team always strives to deliver high-quality products in reasonable timeframes. If you have questions about how AquaJet can help during your next project, contact our team today.