Fabricating
What processing does your project require? AquaJet Services does a lot more than just waterjet cutting—we are a full-scale fab shop with the necessary tools and skills to take care of all of your metal fabricating needs. Our team is comfortable with technical drawings, and over half of the employees are equipped with computers and CAD software. Rest assured that we will thoroughly read and understand your drawings so that your finished products meet your design intent.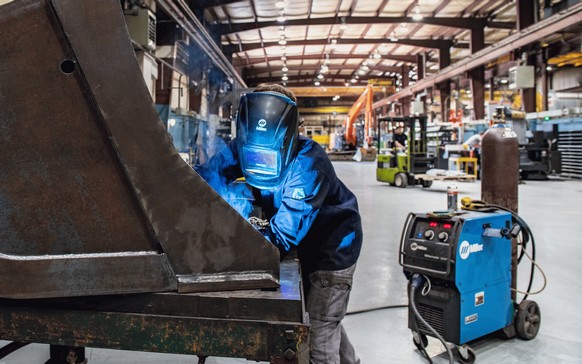 Welding
Welds need to be strong, but they can look good as well without taking any extra time. We have skilled welders on staff, and we weld steel, stainless steel, and aluminum with MIG and/or TIG welders. We also have a hot spray welder for repairing hydraulic lines and cast iron. In order to achieve accurate weldments, we can manage the residual stress that is inherent to welding.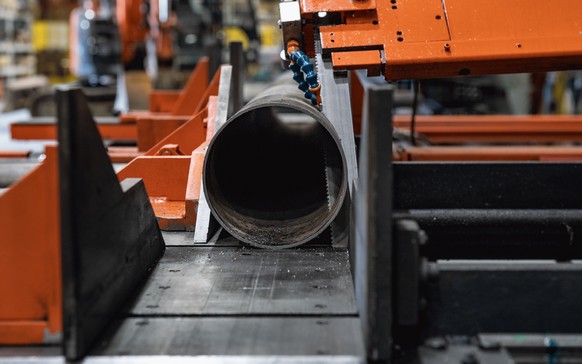 Shearing and Saw Cutting
Beyond waterjet cutting, we can shear steel up to 12 feet wide x 1/2″ thick, and we can saw cut metals with cross-sections up to 24″ x 30″. Structural shapes in high quantities can be accurately cut in our saw with an automatic feeder.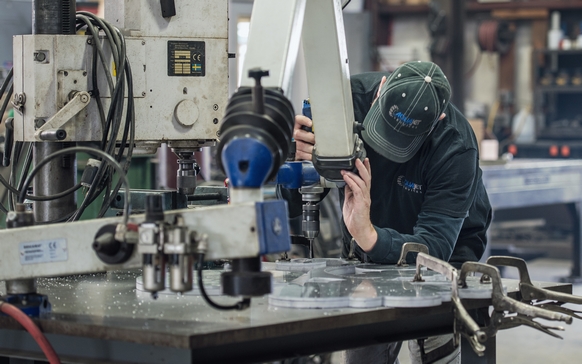 Tapping
If you need tapped holes, we have some options for you. We can drill and tap holes using our conventional drill presses, mills, etc. However, a flexible alternative is our pneumatic tapping arm for drilling or finishing holes. We often team up the waterjets with the tapping arm—the waterjets can cut the holes accurately enough that the tapping arm can tap the holes directly. This provides a very cost-effective way to provide tapped thru-holes in sheets or plates.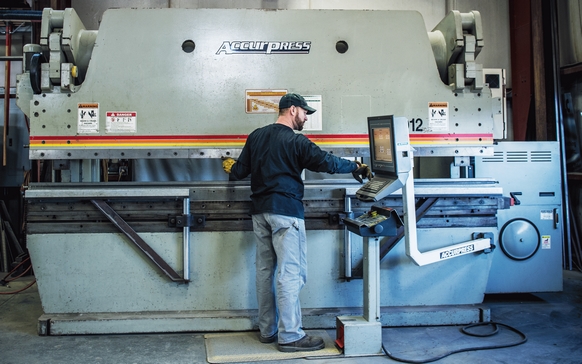 Forming
Maybe you need complex and precise formed parts in metal or plastic. This is achievable by combining sheet metal design in CAD, accurate cutting with waterjets, and precise forming in CNC press brakes. We have a 12' wide x 250-ton CNC press brake for heavy precision metal forming, and a 6' wide x 60-ton CNC press brake for ultra-precise forming with faster cycle times. We do roll forming as well.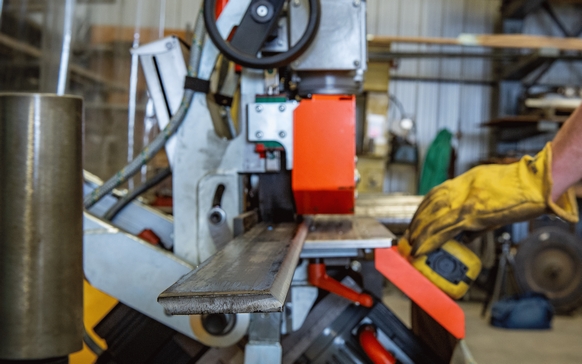 Beveling
Although waterjets are versatile bevelers, we can often bevel more cost-effectively with dedicated beveling tools. On straight edges we can cut bevels up to 2" wide x 60°, and on curved edges we can cut bevels up to 1/2" wide. We can bevel steel, stainless steel, and other metals.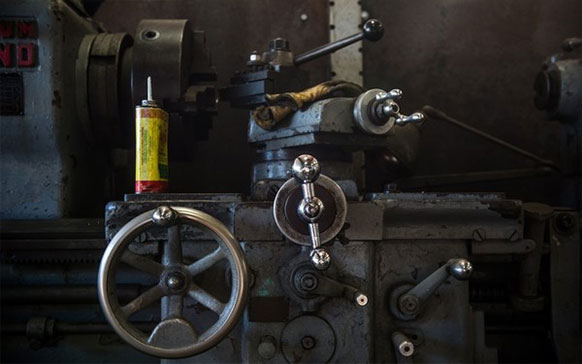 Machining
Although we don't claim to be a machine shop, we do have a milling machine and two lathes. We also work very closely with a local machinist who has over 35 years of experience. He has a CNC milling machine and a lathe, and he also runs our machines if needed.